Comcast joins Governor Charlie Baker, Lieutenant Governor Karyn Polito, leaders from the community and board members from the Massachusetts Broadband Institute at MassTech (MBI) in Ashfield, MA for a celebration of the Commonwealth's Last Mile broadband expansion program, which helps address digital equity across Massachusetts.
During the event, Tolland Broadband Committee Chair Kevin Donovan announced Comcast expanded its full suite of products and services to 550 previously unserved homes and businesses in Tolland. Kevin discussed how gaining access to Comcast's smart, fast and reliable fiber-rich network has had on residents' ability to work, school, attend medical appointments and generally stay connected from home, as well as the impact that high-speed Internet access has had on local small businesses in driving economic growth in the town.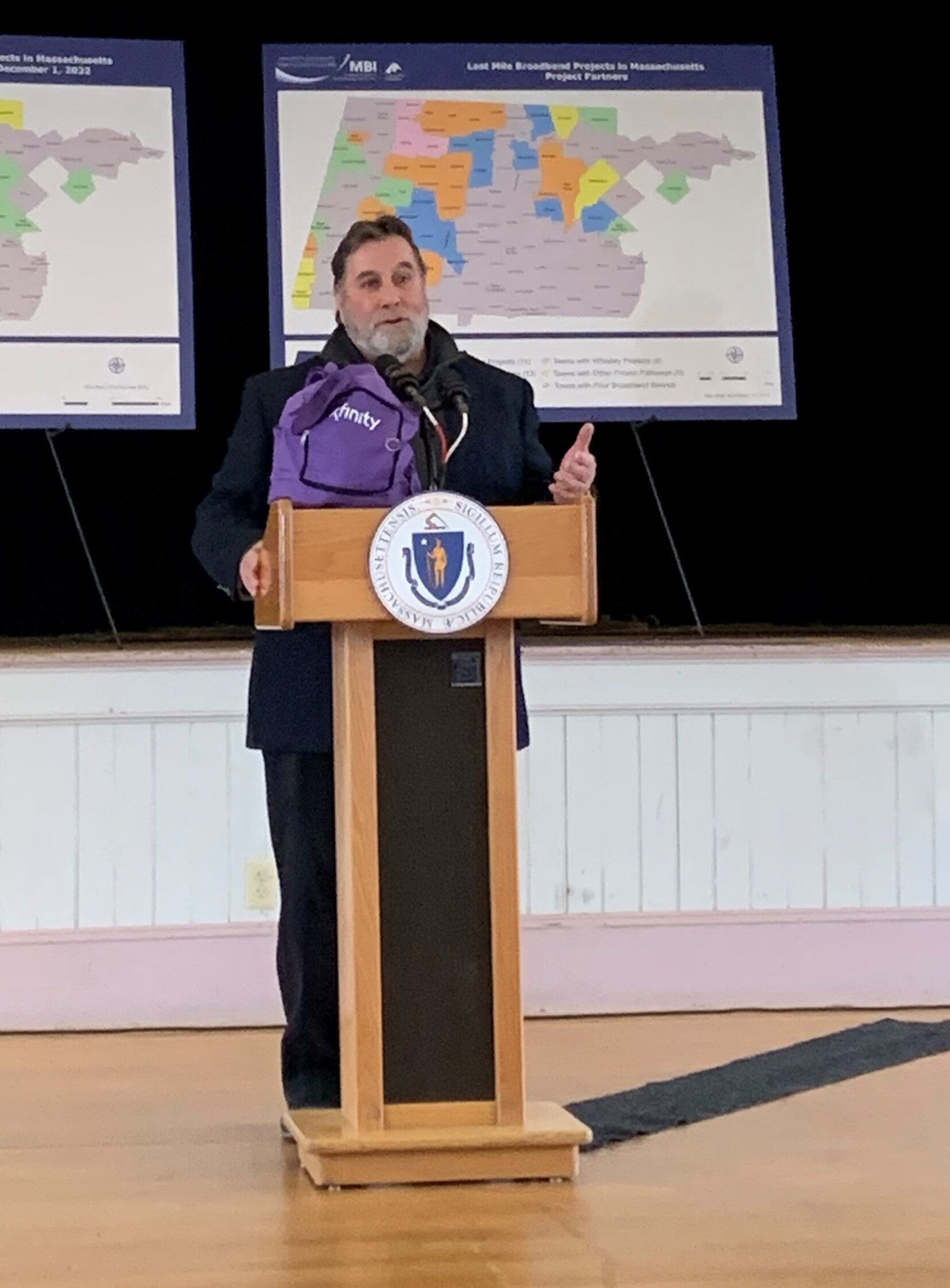 Comcast also recently completed an expansion project in partnership with the MBI to provide broadband access, including Xfinity Internet residential Internet speeds up to 1.2 gigabits per second and Comcast Business Internet speeds up to 100 Gbps, to 271 unserved homes and businesses in Middlefield.
"With the completion of our broadband deployment projects in Tolland and Middlefield, over 820 more residents and businesses in western Massachusetts now have access to the smartest, fastest and most reliable fiber-rich network that offers a range of broadband speeds, including multi-gigabit services," said Carolyne Hannan, Senior Vice President of Comcast's Western New England Region, which includes western Massachusetts. "We are proud of our partnership with the MBI, having completed projects in 13 towns to expand our network to more than 3,197 homes and businesses since 2018, and applaud the Baker-Polito administration for recognizing that access to a high-speed internet is critical for the success of families, businesses and communities."
Since completing its first public-private broadband expansion partnership with the MBI in September 2018 that enabled the launch of multi-gigabit services in nine western Massachusetts towns, Comcast completed four Last Mile projects, which included the towns of Montgomery and Worthington, in addition to the recent projects in Tolland and Middlefield.
To date, Comcast has invested nearly $4 million to expand its network in partnership with the MBI in western Massachusetts resulting in more than 3,000 previously unserved homes and businesses having access to Comcast's fiber-rich broadband network.
Comcast looks forward to continuing to partner with the MBI in 2023 to help further address digital equity across the Commonwealth.