Across our workforce, products and content, Comcast embraces diversity of background, perspective, culture and experience, and our mission to champion equality starts at home with our employees.
As we celebrate Hispanic Heritage Month, we asked Etny, an Xfinity Store Expert in Western Massachusetts, and Raul, a Comcast Business Account Executive in Connecticut, to share a little about their cultures with us:
Q: In what ways does your culture shine through at Comcast?
Etny: I am fluent in Spanish, which helps me connect with the Hispanic customers visiting our store, especially those whose first language isn't English. They're thankful that I can help them, and it feels good to make their experience better.
Raul: My ability to read, write and speak Spanish helps me interact with business customers who either only speak Spanish or prefer to speak Spanish by phone or via email. This creates a deeper connection with them. I appreciate that our company embraces diversity in all its forms and am proud to share my voice and perspectives.
Q: What do you appreciate most about your Hispanic culture?
Etny: The festivals, music, and food. My family comes from the Dominican Republic, and our most festive time of the year is when we celebrate Carnival or "The Real Mas" each February. This carnival exemplifies many music and food traditions from our past. There are also competitions, dances, costumes with huge masks, and customs representing different parts of the country.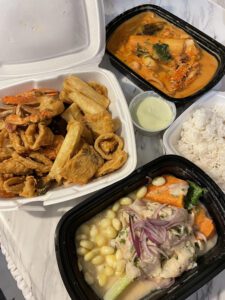 Raul: The Food! Hispanic food in general is amazing, but it's especially true for Peruvian cuisine. I think Peruvian cooking is one of the most diverse in the world because it ranges from mild to spicy and involves all kinds of seafood, meats and potatoes. For instance, there are more than 3,800 different varieties of potatoes in Peru. I've also noticed Peruvian food gaining popularity in the United States as more restaurants serving this cuisine are opening, which is fantastic.
Q:  What Hispanic traditions do you celebrate?
Etny: I celebrate many traditions that hail from the Dominican Republic. For instance, instead of Christmas we observe Three Kings Day on January 6, which is when children receive holiday gifts. I also had my Quinceañera, which is a big celebration for a young girl reaching womanhood at age 15. I love my Hispanic culture and everything that comes with it.
Raul: My family gets together every July 28 to celebrate Peruvian Independence Day. There is always lots of great food, dancing, and local performers playing traditional Peruvian music.
In honor of Hispanic Heritage Month, Xfinity has curated a collection of bilingual and bicultural movies, TV shows, and more on X1, Stream and Flex. This unique collection is edutaining, through programs with authentic stories which celebrate the achievements and breakthroughs of the community.
To access the above content and more, just say "Latino" into your bilingual Xfinity Voice Remote. Click here to learn about other Spanish-language features available with Xfinity.
To further celebrate Hispanic Heritage Month through meaningful storytelling, Xfinity Rewards members have been offered the animated film The Book of Life to enjoy and keep – on us.
Available on Xfinity On Demand and online, Comcast Newsmakers presents short-form, issues-based conversations with leaders and groundbreakers dedicated to advancing America's communities. Here's a sampling of interviews with local leaders of Hispanic organizations:
And hear more from our diverse workforce, including Matt, a project manager who takes pride in his work, and Beverly, one of several female employees who shared advice they received from female role models.