We want every customer interaction with us to be convenient, fast and easy. Each month this series will highlight an Xfinity feature that can be done on your mobile device, online or on Xfinity X1.
Should there be an unexpected outage, our technicians work quickly to make sure your services are up and running as soon as possible. We're on a mission to respect our customers' time and simplify their experience and we understand it can be frustrating to wait for services to come back online. That's why we offer the outage resolution text message feature. Now, you have the option to receive a text message update as soon as your Xfinity services are restored.
Request a Text Message Update
1. If you think you're affected by a local outage, log in to the Xfinity Status Center.
2. If you're experiencing an outage, a notification banner will be displayed on the top of the Status Center and Outage Map.
3. Select Text me when it's resolved.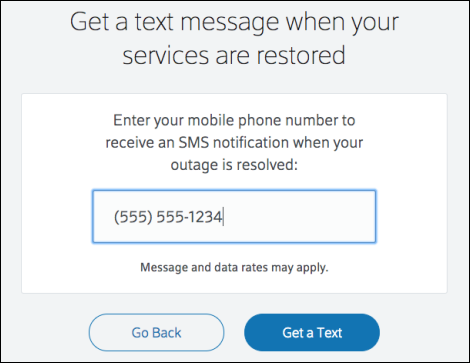 4. Enter your cell phone number into the field and select Get a Text.
5. You will then see a confirmation page that lets you know you are signed up to receive a text message update when your services are restored.
You can find other Help and Support tools in the My Account section of www.xfinity.com.