Our Comcast employees live and work in the communities we serve, and every day, they show their passion for bringing our customers the best products, best network and best customer experience. Romando is a product expert available at our Plainville (CT) Xfinity Store to show customers how to get the most value out of their Xfinity services, including Xfinity Mobile, Xfinity Internet, Xfinity X1, Xfinity Home and Xfinity Voice. Along with the rest of his team, Romando is also on hand to help customers upgrade or swap equipment, answer questions, pay a bill and more.
To learn more about Romando, the Xfinity products that are meaningful to him and his Xfinity Store career, read on.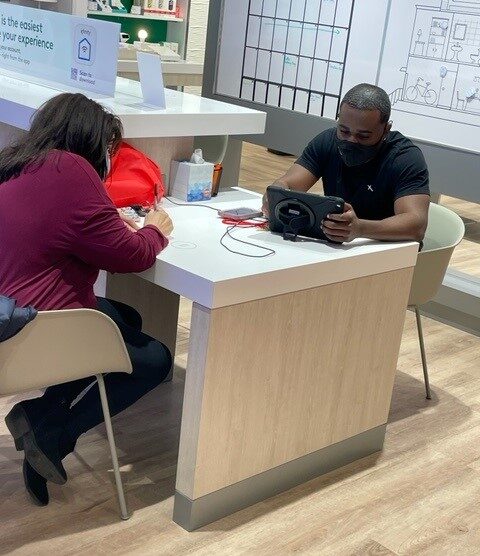 Q: How long have you worked for Comcast?
A: I have worked for Comcast for five years and counting. Prior to working as a Retail Sales Consultant in our new Plainville Xfinity store, I held some other jobs with the company where I also worked with customers.
Q: What is the best part about working in one of our newest Xfinity Stores?
 A: I enjoy working in an environment where I can put smiles on our customers' faces and create "wow" moments for them when they interact with our Xfinity products or our teammates, who are focused on creating an excellent customer experience. Our Plainville location also connects us directly to the community, which gives our team the chance to build new relationships with customers who live locally – it's what we're all about!
Q: What is your favorite Xfinity product?
A: I believe Xfinity has the best products and services hands down, and I enjoy the look on customers' faces when they hear about Xfinity Mobile. Xfinity Mobile offers reliability, flexibility and affordability. It's not uncommon for our customers who have mobile service with a different provider to save money by switching to Xfinity Mobile.
Q: What do you enjoy doing outside of work?
A: I'm a dad with two daughters and a son, and they are my "WHY" for how I live my life. They're why I work so hard and why I'm taking advantage of learning and growth opportunities here at Comcast. I also enjoy building and fixing cars, so the junkyard is one of my favorite places to go when I have some free time.
To meet more of our Xfinity Store team members across the area, read about Tyler and Shayna. And we're hiring! If you are interested in joining Romando in a career at one of our Xfinity Stores, you can find open positions here: https://jobs.comcast.com/.