Here in Comcast's Western New England Region, we're celebrating Earth Day year-round by sharing information and programs that can help you be a better steward of the Earth. We're also reflecting on some of our local sustainability efforts as we work together to create a greener tomorrow.
Read on to celebrate with us!
Solar Farms
What better time than Earth Day to share the news about a solar farm we recently installed at one of our facilities in Hamden, Connecticut. By harnessing the sun's power, the 820 energy-producing panels will generate 460,000 kilowatts of electricity annually – about the equivalent of what is consumed in a year by 40 single-family homes. This, in turn, powers the services of thousands of Xfinity and Comcast Business customers throughout central Connecticut.
Check out this time-lapse video of the Hamden installation that condenses several months of work into one minute.
Last year we also installed a solar farm at our regional facility in Derby, Vermont, which powers Xfinity and Comcast Business services for area customers.
Sustainable Measures for an Eco-Friendly Work Environment:
Throughout the year and in support of recycling practices, reducing emissions, and creating less waste, we're proud of the following, recent initiatives that are helping us to create an even more sustainable work environment:
Installed 10 electric vehicle charging stations among Connecticut and Vermont locations.
Installed fuel efficiency software in 700 fleet vehicles.
Held electronic waste recycling events for employees, collecting 11.5K lbs of material.
Implemented plastic wrap recycling in our warehouse
Installed cardboard balers in three warehouses, which condenses material into a tighter bundle, resulting in less frequent pick-ups and therefore reduced emissions.
Earth Day on Xfinity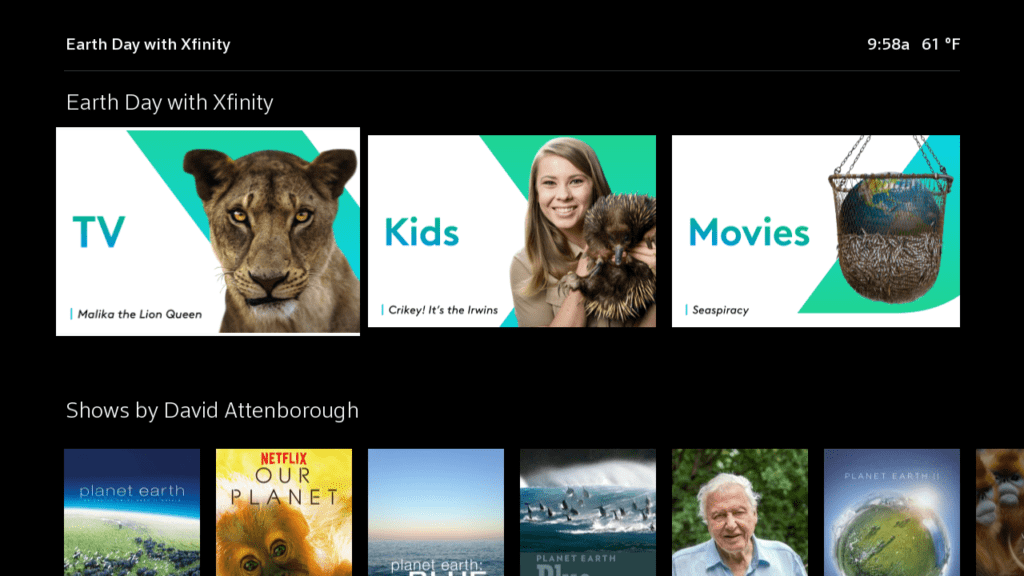 Experience Earth Day on Xfinity X1 and Xfinity Flex with shows and movies that showcase the beauty of our planet. Just say "Earth Day" into your Xfinity Voice Remote to easily find content on Xfinity X1, including:
Elephants, Secret of the Whales, Earth Moods via Disney+
Malika the Lion Queen via TUBI
Crikey! It's the Irwins, The Aquarium, The Zoo on Animal Planet
David Attenborough: A Life on Our Planet, Our Planet, Night on Earth, Kiss the Ground via Netflix
Other available programming includes Absurd! Planet, Planet Earth: The Blue Planet, Wild Nordic, My Octopus Teacher, March of the Penguins, The Universe, and much more! 
Want to learn more? Click here to read our post about Comcast's energy efficient products and services, including features on both Xfinity Home and Xfinity X1, like Power Saving Mode, that can help you save on energy costs.
Comcast Newsmakers – Champions for Our Environment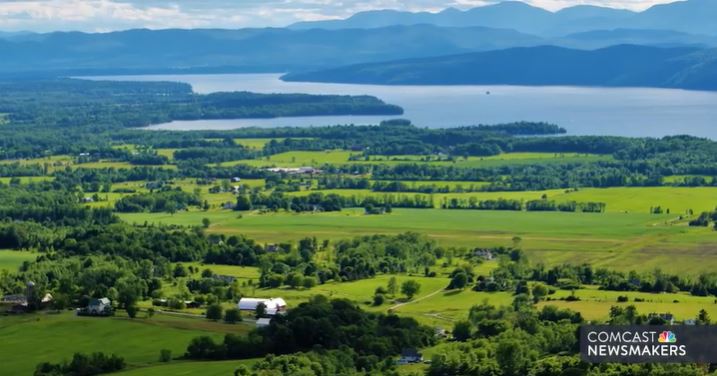 Available on Xfinity On Demand and online, Comcast Newsmakers presents short-form, issues-based conversations with leaders and groundbreakers dedicated to advancing America's communities. Here's a sampling of interviews with local leaders and experts who are researching, protecting, and advocating for area wildlife, landscapes and our scenic spaces.
We hope you'll join us by incorporating sustainable practices into your life that will have a positive impact on our environment. Happy Earth Day!