Representatives from the Chamber of Commerce of Eastern Connecticut, Comcast Business, Chelsea Groton Bank and Chelsea Groton Foundation, were joined today by New London Mayor Michael Passero to celebrate the grand opening of the Regional Innovation Center, located at 92 Eugene O'Neill Drive, New London, CT.
The Regional Innovation Center offers flexible co-working space and private offices for entrepreneurs, small businesses and those looking to establish or expand their brand in a rapidly growing area of the state. The Regional Innovation Center is complete with administrative support and features single, double, and triple office spaces for rent; co-workstations for rent in an open and collaborative setting; a kitchen facility with appliances and complimentary coffee; a private wellness room; handicapped access; two conference rooms; a large outdoor patio; free onsite parking; electric vehicle charging stations; and technology solutions powered by Comcast Business.
"We're proud to open the doors of the Regional Innovation Center, which will help to enhance the economic vitality of the region," said Tony Sheridan, President and CEO of the Chamber of Commerce of Eastern Connecticut. "We're also incredibly thankful to Comcast Business, whose partnership enables us to provide entrepreneurs with technology solutions so they can grow and develop in eastern Connecticut and beyond."
As a founding partner of the Regional Innovation Center, Comcast Business is powering all the technology in the building through a 1-Gig Fiber Ethernet Dedicated Internet connection. In addition, there will be  X1 for Business TV service and a full deployment of Comcast Business VoiceEdge®, a hosted, cloud-based telephone system.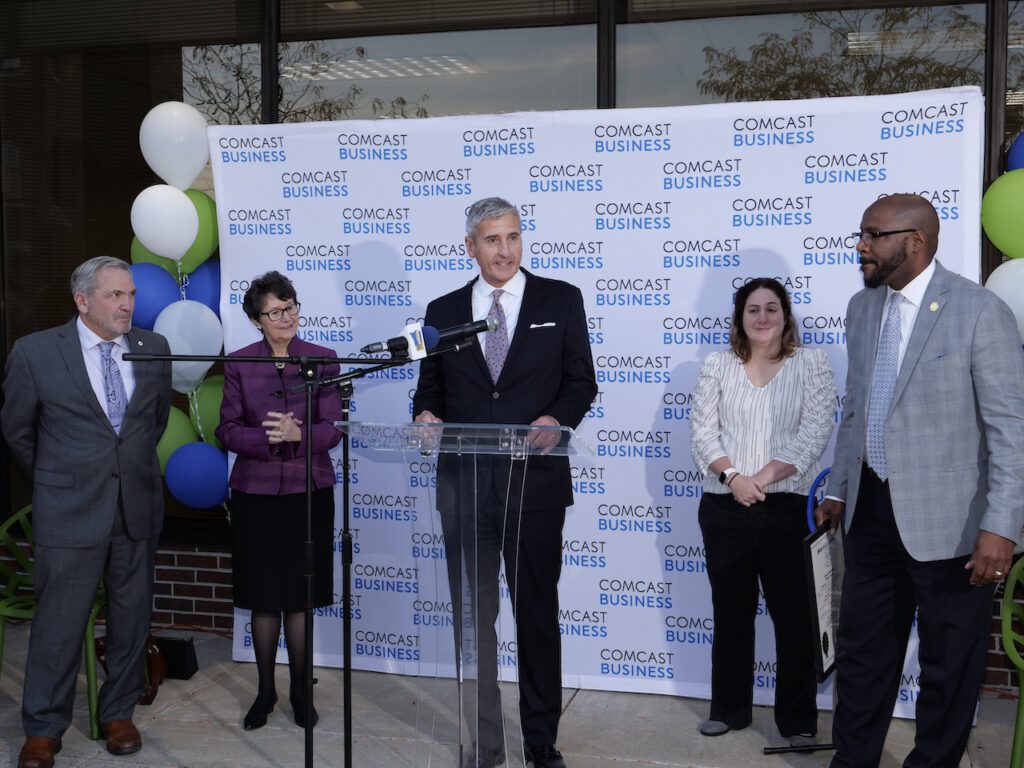 "Comcast Business is proud to support forward-thinking projects like the Regional Innovation Center," said Paul Savas, Vice President of Comcast Business in Comcast's Western New England Region. "We believe this project, powered by our fast, reliable and powerful technology, will play a critical role in helping the Chamber attract even more businesses and startups to the community."
In 2020, Comcast completed the expansion of its advanced network to New London, giving residents and businesses across the city access to Comcast's full suite of Xfinity and Comcast Business services. Comcast's expansion to New London, and its support of the New London Innovation Center, is part of the company's latest investment in Connecticut, which includes expansions to East Lyme, Jewett City, Killingly, the North End of Hartford, Plainfield, Sharon, and Waterford.
"The Chelsea Groton Foundation is proud to support organizations throughout the area like the Regional Innovation Center that help our local community of entrepreneurs and small businesses access office space to start and grow their business, while also providing learning and networking opportunities for these business leaders of tomorrow," said Anthony A. Joyce, III, President and CEO of Chelsea Groton Bank, and President of the Chelsea Groton Foundation.
The Regional Innovation Center is located a short walk from New London Union Station the soon to be developed Coast Guard Museum and the launch pad for Offshore Wind at the State Pier, the Regional Innovation Center provides tenants with easy access to rail, bus, and ferry services to New York, Boston, and beyond, as well as Downtown New London's restaurants, shops and cultural institutions.
To learn more about the Regional Innovation Center, including lease terms, visit www.chamberect.com/innovation-center or call Stan Mickus or Kim Benoit of Century 21 Shutters & Sails at 860-460-8437.