Our Comcast employees live in the communities we serve, and every day, they're making sure our customers have the best products, best network and best customer experience. Amoy Robinson, a retail consultant from our West Hartford (CT) Xfinity Store , has a broad range of product knowledge and is available to show customers how to get the most value out of their Xfinity services including Xfinity Mobile, Xfinity Internet, Xfinity X1, Xfinity Home and Xfinity Voice. Along with the rest of our West Hartford store team, Amoy is also on hand to help customers upgrade or swap equipment, answer questions, pay a bill, and more.
To learn more about Amoy and her Xfinity Store career, read on:
Q: How long have you worked for Comcast and what does your job entail?
A: I've worked for Comcast since March 2013 and I make sure our customers have a wonderful experience when visiting our Xfinity Store.
Q: In what way(s) do you ensure our customers have a good experience with us?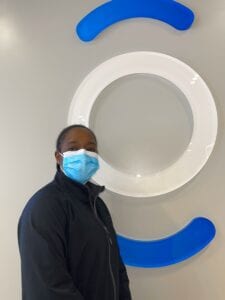 A: I treat EVERY customer the way I want to be treated.  Customers are the most important part of our business and it's important to me to make sure they feel valued and know that we appreciate them. When a customer visits our store, I start by introducing myself and listening to the reason for their visit.  While assisting them, it's important to me to also ask questions to make sure the Xfinity products and services they have meet their current needs and fit their lifestyle.
Based on their preferences and needs, I help customers get more value out of their products by showing them our many cool product features and how to use them. For example, I might show a movie buff how to use our Xfinity Voice Remote to easily find all the movies available to them for free on Xfinity X1. Many customers are also amazed to learn how they can save on mobile by adding our Xfinity Mobile product.
Q: Is there a memorable customer interaction you've had where you've made someone's day?
A: I love this question because I truly find joy in making a customer's day.
Recently, a customer came in with questions about their Xfinity Gateway, which is our all-in-one WiFi modem and router that is capable of delivering WiFi speeds faster than a Gig.  After finding out how their household utilizes the internet, which includes streaming content on multiple TVs and tablets, as well as running a few gaming systems, I determined that their speed package did not meet their data usage needs. After reviewing all the internet speed options available and discussing the benefits of each, the customer decided that our Gigabit speed package was the right choice for their household. In addition, I was able to also introduce them to Xfinity Flex, our 4K streaming box that comes free with Xfinity Internet. An added benefit was that the customer loved our Xfinity Voice Remote that came with it!
I will never forget the customer telling me how I truly made her day, week and month!  They were so excited to be creating a better internet experience for their entire household, and a better viewing experience with the Xfinity Flex streaming device. They also couldn't wait to start watching Peacock's free streaming service that is free to Xfinity customers. This interaction gave me a sense of pride to have made such an impact on this customer.
Q: What's your favorite Xfinity product and why?
A: I love watching TV and Xfinity X1 has changed my viewing experience for the better! The Xfinity Voice Remote is amazing and helps me find whatever I want to watch, as well as new and trending shows. The Xfinity X1 platform also has all the apps I can access in one place, such as Netflix and YouTube. With Xfinity X1, I don't even have to change my TV input to access my gaming system, which is really convenient.
I also have Xfinity Home and like that I can pull up my exterior camera on my TV with Xfinity X1.
Q: What do you enjoy doing when not at work?   
A: Outside of work, I enjoy spending time with my partner, playing video games and going to the casino. I also enjoy watching a really good TV show – it's so easy to get sucked into a great series!  My favorites are Big Brother, Outlander and Survivor.
To learn more about a career at an Xfinity Store, click here.