We want every customer interaction with us to be convenient, fast and easy. Each month this series will highlight an Xfinity feature that can be done on your mobile device, online or on Xfinity X1.
Xfinity customers can now choose their own bill due date to better balance pay dates and monthly expenses. To change your bill due date, follow these steps after signing in to My Account on Xfinity.com (note: this feature isn't currently available with the Xfinity My Account app for mobile devices.)
Chose Your Own Bill Date
1. If you see an option asking, "Want to change when your bill is due each month?" click on Get Started and skip to step 4. If not, go to the Settings page and find Bill Settings in the left-hand menu. Then, click Billing Cycle.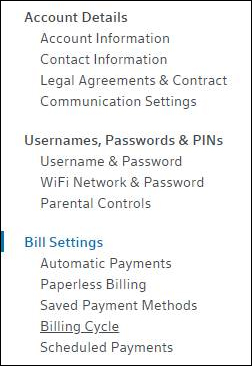 2. Click View Details*

* Note: If you don't see View Details, you're not eligible to change your due date.
3. Choose the day of the month you'd like for your due date. Pick a date between the 1st and the 28th. The 29th, 30th and 31st aren't available. Then, click Continue.
4. Go over your changes and click Submit.
5. When you're done, you'll see a confirmation message. It'll tell you when your next two bills will come and how much they'll be. You can print or save it for your records if you like.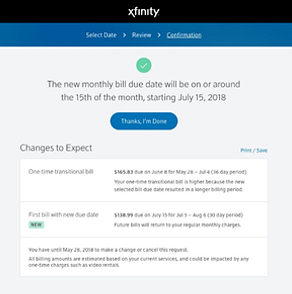 Note: If you make a change to your account later–like ordering a Pay Per View movie or changing your package–the bill amount will be different.
For more information and helpful tips, visit: https://www.xfinity.com/support/articles/due-date-change.