About 40 million people in the U.S. are expected to move this year, with the majority packing up in June, July and August. Are you planning to move to a new place in New England this season?
Comcast recently announced the results of a new Xfinity survey that confirms just how much consumers dread not having Internet service when moving into a new place. Nearly a third (31%) of adults, who are likely to move in the next year, say it would be more difficult to live without Internet for two days after a move than to live without water (69%).
The survey also found that moving is one of life's most stressful events (39%), scoring higher than finding and adjusting to a new job (23%), creating a household or personal budget (15%), and even filing taxes (12%).
Moving is a busy time, and scheduling the transfer of TV or Internet services takes 21 minutes on average according to the survey. Xfinity's new 'Move in a Minute' experience reduces the time it takes by 95% and can be done whenever and from wherever customers choose.
At Comcast, we've implemented a number of digital solutions to make our customers' lives easier – from service appointment management to bill pay to changing your WiFi name. Today, nearly 80% of Xfinity customer interactions are completed digitally. Now, to jumpstart a move, customers can simply log-in to Xfinity, register their move date and new address, and select a time and day for their installation. X1 Customers can also simply say, "Move with Xfinity" directly into their voice remote to get the ball rolling.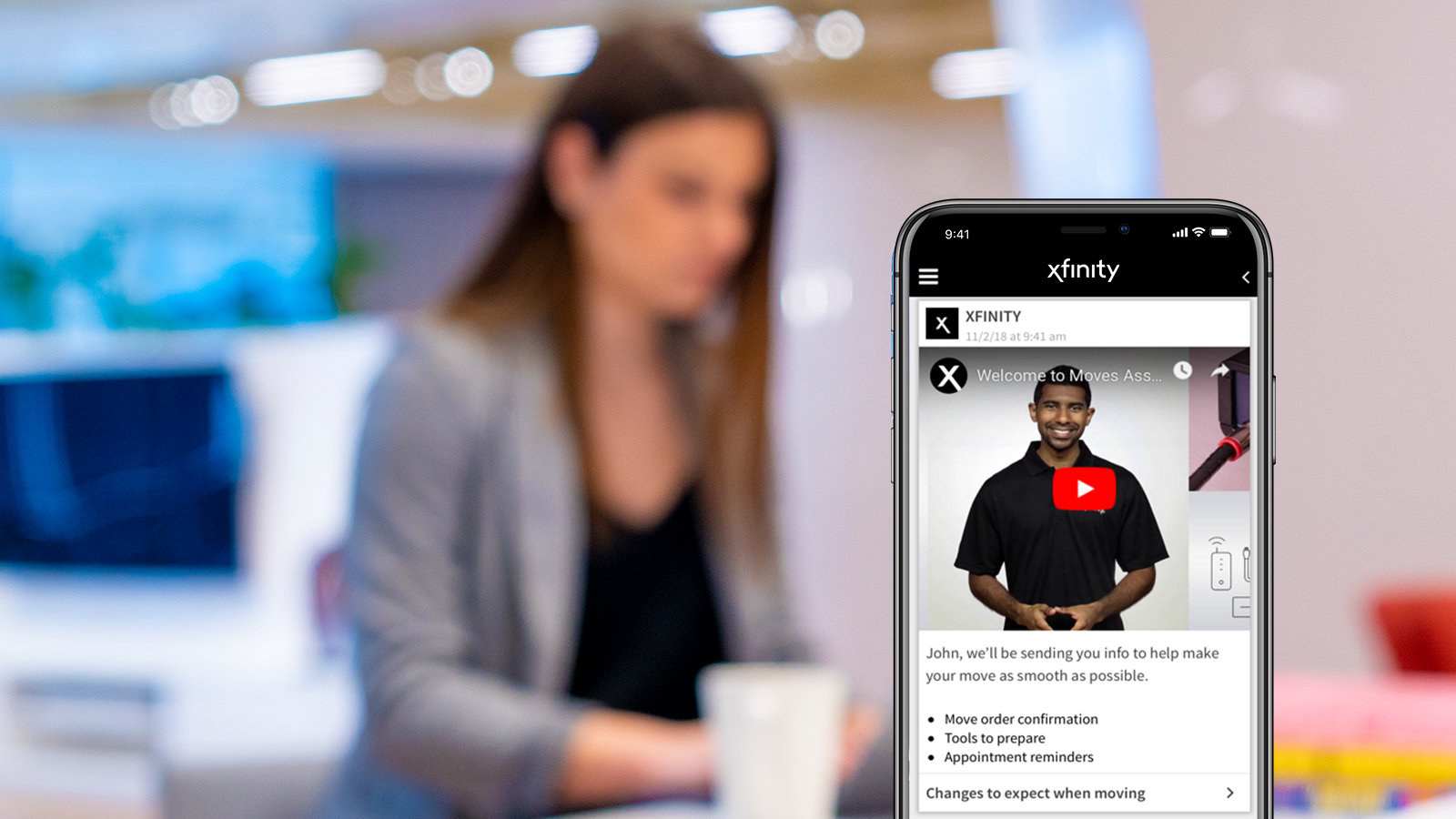 Customers who have installed Xfinity xFi can also easily reconnect their personalized WiFi devices – from home gaming consoles and smart speakers, to tablets and smartphones – allowing them to easily enjoy the first few hours in their new home. While customers are waiting for their televisions to be set up, the whole family can still watch movies, shows and live events with the Xfinity Stream app or via the Xfinity Stream portal. And customers can manage all aspects of their service – from appointment management to digital troubleshooting – in My Account, whether on the Web or in the My Account App.
To continue helping make your move quicker and easier, we also wanted to share these 5 tips from Ali Wenzke, Author of "The Art of Happy Moving":
Use a moving checklist and check one thing off a day. Ali Wenzke has free checklists on her blog and throughout her book, The Art of Happy Moving.
Declutter as much stuff as you can to make moving, packing and unpacking easier (and less expensive). Decluttering for a move is different than decluttering to spark joy, so start with the heavy, bulky items first.
Get started early. The recent survey commissioned by Xfinity and conducted by Wakefield Research found that 26% of adults say their moving style is to wait until the last minute. Please don't do that. You'll be so much happier if you plan ahead.
If you disassemble furniture and electronics, take photos throughout the process and label the pieces. What may seem obvious now will be less so after moving day.
Use technology to help you. Xfinity has a great digital tool that makes it simple to transfer your internet service to your new home. Just go to Xfinity.com/moving. Then, it's a few easy steps. Log in to your account. Enter when and you're moving, and pick an install time. That's it.