Comcast is committed to creating and supporting digital equity within the communities we serve. And we're proud to partner with military community-serving organizations meeting the needs of veterans, servicemembers, and military families. As part of these commitments, at a recent event, Comcast announced a donation of $25,000 to Easterseals Capital Region & Eastern CT to support Easterseals' Veterans Rally Point Digital Media Skills Program and a renovation at the organization's Windsor location.
"We are thrilled to partner with Easterseals and support their mission of achieving greater equity, inclusion, and adoption of the Internet. At Comcast, we are committed to our veterans and to enhancing digital literacy for all, no matter a person's ability," said Dan Glanville, Vice President of Government Affairs and Community Impact for Comcast's Western New England Region.
Comcast employees also presented laptops and tablets to Easterseals at the event and held a training session for Easterseals' clients on digital basics, including how to use the Internet, connect with others and be safe online.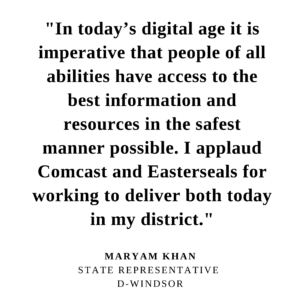 "Staying active and learning new digital skills is important for our clients and so is online safety. We are grateful to Comcast for partnering with us to help people stay connected, " said Robin Sharp, President & CEO, Easterseals Capital Region & Eastern CT.
Easterseals' Veterans Rally Point Digital Media Skills Program serves the unique needs of approximately 50 active military, National Guard, Reservists, and their families by providing technology tools including a computer/media lab with new desktop computers, web cameras and software, as well as both formal and informal guidance to navigate Veteran Benefit resources, employment opportunities, professional development, and more.
The event was attended by representatives and clients of Easterseals, Comcast executives, State Senator Douglas McCrory and State Representative Maryam Khan.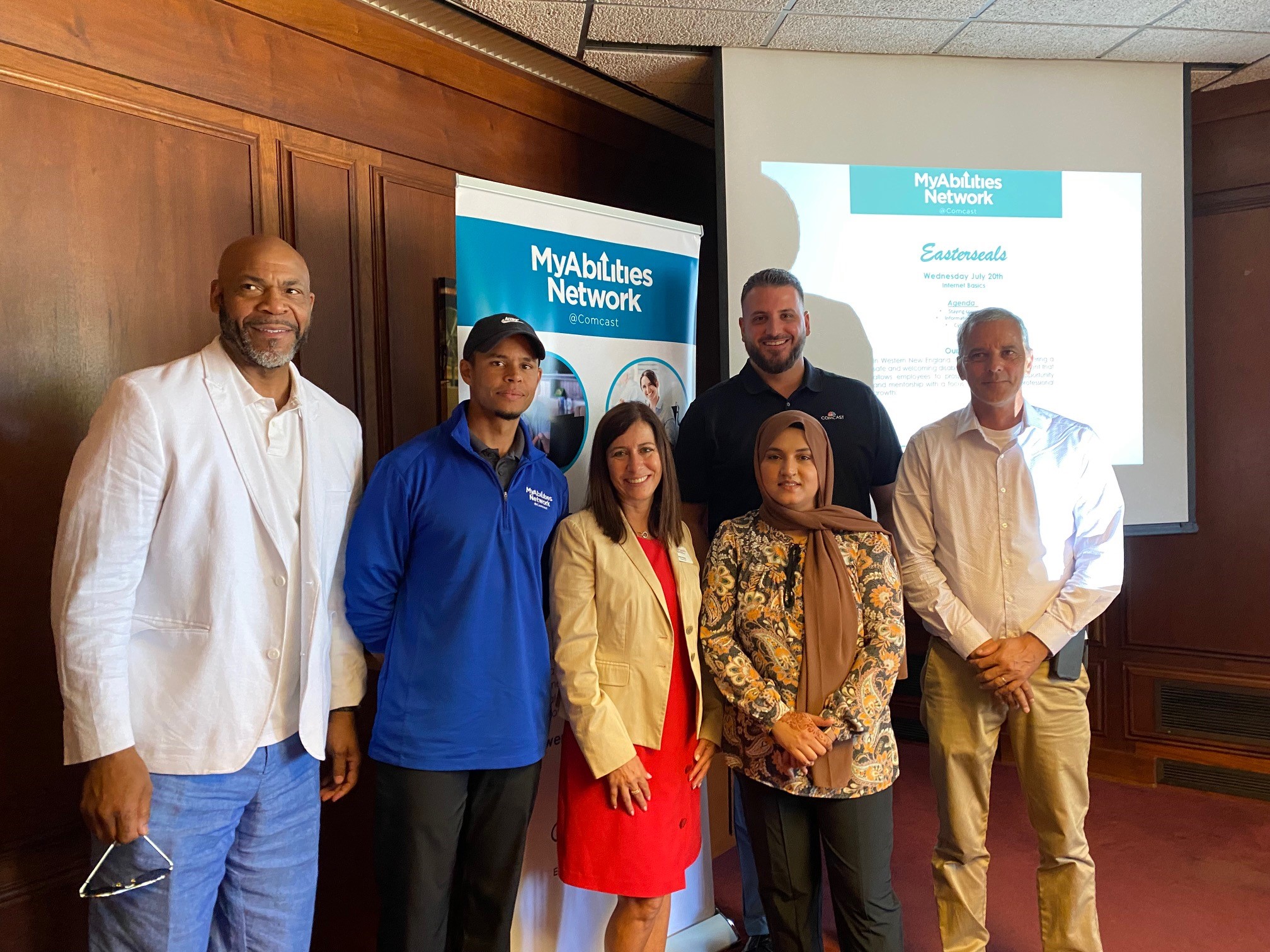 "In today's digital age it is imperative that people of all abilities have access to the best information and resources in the safest manner possible. I applaud Comcast and Easterseals for working to deliver both today in my district," said State Representative Maryam Khan.
"Having more ways to socialize and access resources is a big support to both mental and physical health. But we want to make sure that people have the latest tips on how to remain safe online and avoid scams. I'm glad that we could hold a conversation to spread the word on staying safe when using your phone or surfing the Internet," concluded State Senator Douglas McCrory.
Learn more here about Project UP, Comcast's comprehensive initiative to advance digital equity and help build a future of unlimited possibilities.