Together with the Boys and Girls Club of Hartford (BGCH),  Hartford Mayor Luke Bronin and other community leaders, Comcast announced a donation of 500 Dell Chrome Book laptop computers to the newly-opened South End Clubhouse of BGCH. Comcast also announced it was awarding a $25,000 Internet Essentials Accelerator grant to the South End Clubhouse for well-rounded digital literacy programming. To watch a replay of the announcement, click here.
Comcast's donation to the Clubs is part of its more significant, $1 billion commitment to mark the 10th anniversary of its Internet Essentials (IE) program. The commitment includes investments in a number of critical areas, including additional support for its ongoing Lift Zone initiative. Program goals include establishing WiFi-connected safe spaces in more than 1,000 community centers nationwide for students and adults by the end of 2021; new laptops and computer donations; grants for nonprofit community organizations to create opportunities for low-income Americans, particularly in media, technology, and entrepreneurship; and continued investment in the company's landmark IE program. These new commitments will impact an estimated 50 million Americans over the next ten years.
"Comcast's generous donation of these laptops will provide an essential learning tool that might otherwise be out of reach to many of our youth," said Sam Gray, President and Chief Executive Officer of the Boys and Girls Club of Hartford. "These devices will not only help them be successful in school, they will help them acquire the skills needed to be competitive in an increasingly digital workforce. I want to thank Comcast for its generous gift and support of the Boys and Girls Club of Hartford. This donation is an investment in more than our Clubs; it is an investment in the youth we serve."
"The pandemic has made us all the more aware of the digital disparities and lack of access to technology that has long been an issue in low-income communities," added Hartford Mayor Luke Bronin. "This gift is the sort of targeted corporate partnership that Hartford and other cities need to address this gap and give smart, motivated youth the shot they deserve."
Youth receiving the laptops are selected based on need, Gray said. They must complete the first cycle of the Club's MyFutures program, scheduled from October 1 – December 2021. The laptops will be distributed as incentive prizes or holiday gifts, he said.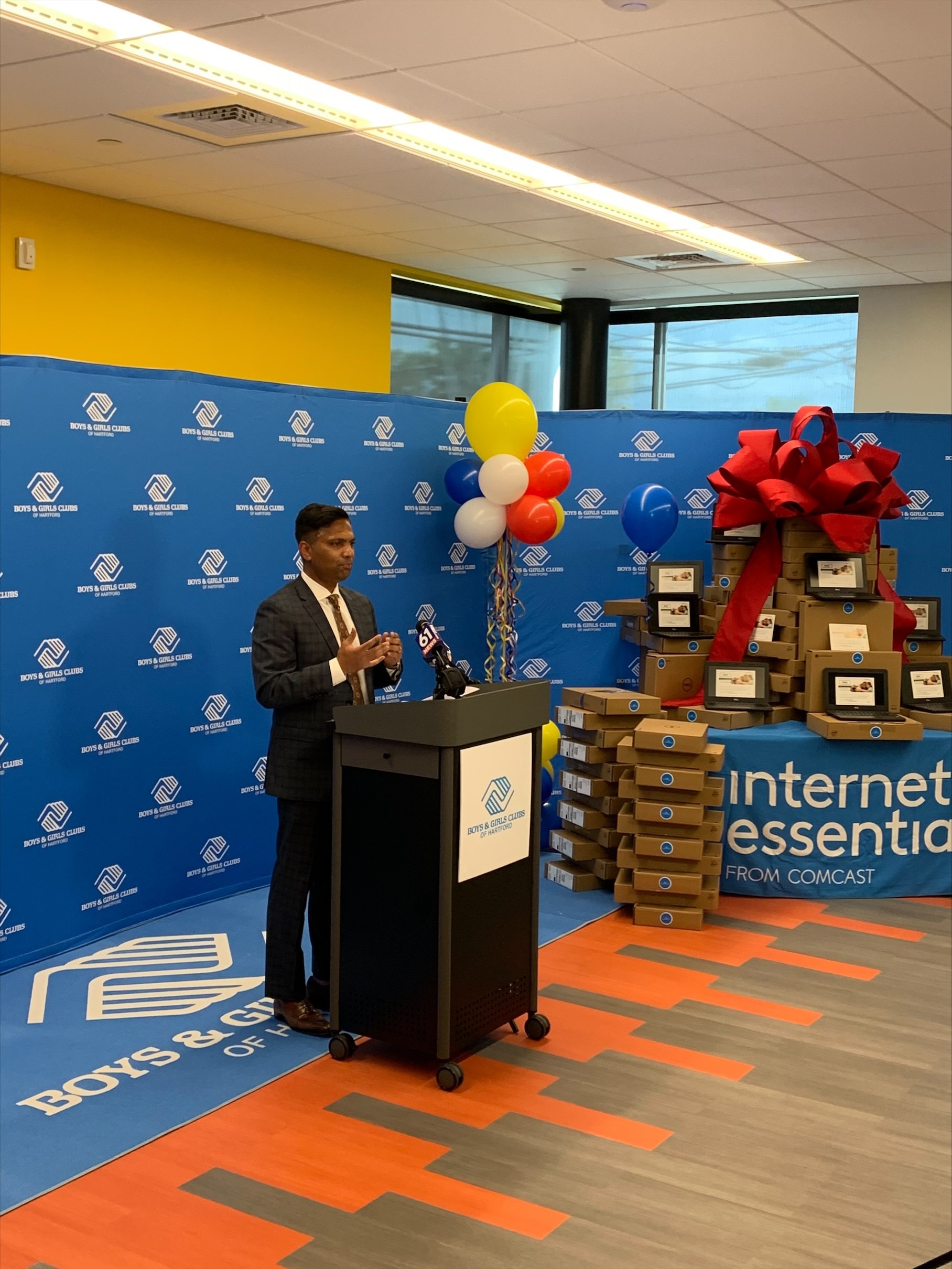 "At Comcast, we believe in fostering communities where everyone has the opportunity to succeed, and we know we make the biggest impact when we partner with organizations like the Boys and Girls Clubs of Hartford to help bridge the digital divide," said Dennis Mathew, senior vice president for Comcast's Western New England Region, which is headquartered in Connecticut. "We are proud to provide the new South End Club with courtesy Xfinity and Comcast Business services, as well as this Comcast Foundation Grant and laptop donation that will provide digital skills training and devices to students and families in Hartford."
"The start of the school year can be a tough time for young people in Hartford, not because they don't want to go to school, but because the money to buy the supplies and equipment they need for school sometimes isn't there," said Chassidy Rodriquez, a former club member and BGCH Youth of the Year now attending college and working at the Club. "I know that because I was one of those kids not long ago. This gift means the kids I now work with at the Club won't have that worry and can focus on other things like doing homework and figuring out what they want to do in life. Thank you, Comcast and Mr. Mathew, for making that possible. Your donation means more than I can express."