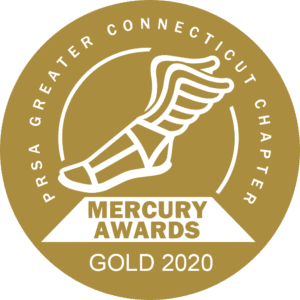 Comcast's Western New England Region, which includes Connecticut, Vermont and western Massachusetts, has been awarded the 2020 Best in Show Mercury Award, as well as the Gold Mercury Award, for Integrated Communications by the Greater Connecticut Chapter of the Public Relations Society of America (PRSA CT).
Comcast was honored for its Virtual Leaders and Achievers Scholarship Ceremony for Connecticut. The ceremony, held in June 2020, was the company's first virtual event to honor its Connecticut Leaders and Achievers scholarship recipients and involved cross-departmental collaboration, as well as creative problem solving, to find a way to honor the accomplishments of 18 local students, while engaging local officials and the media, during a pandemic.
The 2020 Mercury Awards recognized outstanding creative and strategic excellence by a wide variety of agencies, companies, colleges, nonprofits, and organizations across the state. Entries were judged by 25 members of the North Carolina Chapter of PRSA. The Best ins Show recipient was selected from among the year's Mercury Award winners. The Best in Show winner represented the pinnacle of excellence in public relations programming and contributed to the communications industry by demonstrating strategic value and ability to drive critical business outcomes.
"Comcast has diligently worked to set a high standard for innovation and creativity for continued execution of public relations tactics and campaigns," said Derek Beere, president, PRSA CT. "This award, especially the Best in Show honor, is a testament to Comcast's skill, ingenuity, and vision, despite a year filled with unforeseen and unprecedented challenges."
PRSA CT advances the public relations profession and supports public relations professionals throughout the state of Connecticut. With nearly 100 members, the chapter encompasses a diverse group of entry-, mid- and senior-level professionals, representing advertising agencies, independent consultants, business and industry, government, hospitals and health care organizations, professional associations, education and nonprofit organizations.