We want every customer interaction with us to be convenient, fast and easy. Each month this series will highlight an Xfinity feature that can be done on your mobile device, online or on Xfinity X1.
The X1 Help Menu is a great tool that allows you to restart your system, set up your remote, learn X1 tips and tricks, reset Netflix, check your connection status, and access/change your WiFi network name and password.

To easily access the Help Menu on X1 (when not using the guide), simply press the "A" button on your remote control. Or access it by using the X1 Voice Remote, pressing and holding the microphone and saying, "Help".
You can also access your Xfinity account from the Help Menu by navigating to Apps/Featured Support/Manage My Account.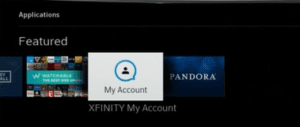 The My Account app allows you to, among other things, view and pay your bill, manage upcoming appointments, and view data usage.