Our Voices is a series of profiles that shows how an employee is making a difference within our company and in the communities we serve across New England.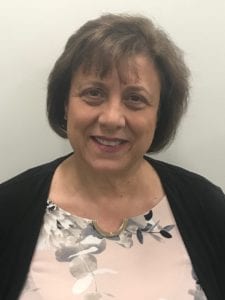 Lynn St. James, senior manager of Finance in Berlin, CT, shares her thoughts and insights about Women's History Month in the following Q&A.
Q: What does Women's History Month mean to you?
A: It is an opportunity for all of us to focus on some of the most important and little-known advances/accomplishments to our society. It brings to our attention that for generations women have been making considerable contributions that we do not necessarily celebrate, but that we have integrated into our everyday.
Q: What figures in women's history have you found to be particularly admirable or inspirational?
A: One who might be little known to many, but who I find important is Rachel Carson, an early environmentalist. In the mid-20th century, she wrote several books and challenged businesses and large pharmacology to take a serious look at the impact of their products on our long-term sustainability. She so inspired President John F. Kennedy in her 1962 book "Silent Spring" that he initiated a presidential advisory committee and pushed the U.S. Senate to open an investigation of pesticides.
Q: We're approaching the centennial of women earning the right to vote in 1920 with the 19th Amendment to the U.S. Constitution. Are there are any other specific events in women's history that you regard as especially meaningful?
A: Madeleine Albright being named as the U.S. Secretary of State in 1997. She paved the way for Condoleezza Rice (in 2005) and Hillary Clinton (in 2009), and her belief that all women need to help other women is a driving force in making change happen.
Q: What books or movies would you recommend that spotlight women who have made important contributions to women's history?
A: "Visionary Women: How Rachel Carson, Jane Jacobs, Jane Goodall, and Alice Waters Changed Our World." All of these women – Carson, a conservationist; Jacobs, an urban planning activist; Goodall, an anthropologist; and Waters, a chef – challenged the norm in the early 1960s and each prevailed against powerful and mostly male adversaries. From environmental changes to changes in how we eat, their impact is still being felt by all.
Q: What do you hope others will learn from Women's History Month?
A: That every woman is important and that we should not be afraid to voice our opinion and support causes, even if they are not popular
Q: How would you characterize or describe your own "voice"?
A: My voice is all about compassion, support and being truly open to engaging others, no matter our differences. My goal each day is to be a little better than the day before and always make myself available to assist others.